The Escapists Wiki/Section 1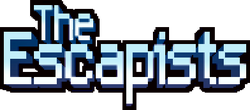 Welcome to The Escapists Wiki
The
The Escapists
reference written and maintained by the players.
Please feel free to contribute by creating new articles or expanding on existing ones.
Welcome to The Escapists Wiki
Welcome to The Escapists Wiki
The Escapists is a puzzle role-playing video game played from a top-down perspective. The game was developed by Mouldy Toof Studios and following a Steam Early Access release in 2014, was released in 2015 for Microsoft Windows, Xbox 360, Xbox One and PlayStation 4. Players assume the role of an inmate and must escape from prisons of increasing difficulty.