Glitch Items
Glitch items are items that are obtained from hacking, with no apparent use. When hovered over, the tooltip is completely blank. Each glitch item uses a random sprite, such as a Comb. However, when trying to use the glitch item, nothing will happen. It can sometimes cause things to happen if you hold it (this is extremely rare).
In order to obtain a glitch item, you need to hack it in. Usually, a glitch item is obtained when entering an incorrect value ID, such as 191, into the game. There are ways to preform this yourself.
BE CAREFUL, IT COULD BREAK YOUR GAME!
You will require: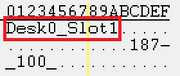 Open Cheat Engine.
Open the process "TheEscapists_eur.exe"
Click on memory view.
Click Search -> Find memory. (Note: Make sure "Type:" is set to Text before you continue!")
Type in "Desk0", and press enter.
If preformed correctly, you should see "Desk0_Slot1" on the right side of the memory editor. To edit the value, you must do so in a specific way. The right side of the memory editor must be edited, not the left. Starting from "Desk0_Slot1", there will be a number 2 spaces right and 1 space down.
You will require: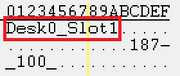 Open Cheat Engine.
Open the process "TheEscapists_eur.exe"
Change the value type to string
Use the comb in your desk to make a Comb Shiv and equip it as your weapon
Scan the value "109" (this is the I.D of Comb Shiv)
Unequip the Comb Shiv
Find an address with a blank value, this will be the address of the weapons slot
add this to your address list (double-click)
Change the value of the address in your list to something over 400 (If you need to do this again, just repeat step 9+8, repeat the whole thing if you have restarted the escapists or are in a new game.